Weddings
Private Parties
Parties
Festivals
Rent Event Supplies Online
Find and book the event supplies you need online for your DC, Maryland, or Virginia event!
Popular Rental Categories
Search Rentals by Event Type
How it Works
1. Create an Event
2. Add Items
3. Delivery & Setup
4. Send Request
Rent items from one or more vendors at the same time. We'll help you select the best delivery option, simplify your communication with vendors, and most importantly… save you time!
Planning Your Own Event?
From dinner parties, to weddings, to community events, GoodShuffle is here to help you find what you need when you need it.
Built for Professional Event Planners
Your needs go above and beyond the occasional rental. With your input and feedback we've built the tools to streamline your event rental procurement!
Sign up for an Event Planning Account
Photo: RJ Whyte Productions, Washington, DC
A 360° Solution for Vendors
Rentals are the lifeblood of your business. Let us send you business while you do what you do best — manage it. Everything on GoodShuffle is customizable to fit your specific business needs.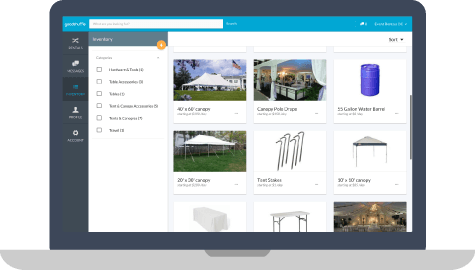 Need help finding something?
We're specialists in helping you find exactly what you need in Washington, DC, Virginia and Maryland. Don't hesitate; we're here to make your life easier!
Phone: 571-354-0613
Email: help@goodshuffle.com
Partner Sites
GoodShuffle specializes in helping you find the items needed to throw a successful event.
Check out some of our partner sites for help with: